Avoid putting on extra pounds this winter with hearty bowls of soup.
"When you eat wet food diluted with water your body feels fuller on less calories" Volumetrics by Rolls and Barnett
Here's one of my favourites: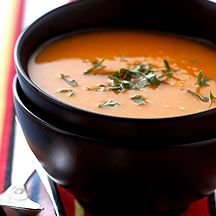 Curried Butternut Squash (serves 6)
1 Large Butternut Squash, peeled, de-seeded and diced into 1 inch cubes
2 Medium Onions
2 pints of Vegetable Stock
1 1/2 teaspoons of Curry Powder
Pinch of Salt & Pepper
2 medium Spring Onions, thinly sliced, to garnish
Preheat oven to Gas Mark 7/220°C/425°F. Place squash and onion in a large roasting pan. Bake, uncovered, for 45 minutes, until squash is tender. If some of the pieces get a bit browned this will only add to the flavour.
Remove from the oven. Tip into saucepan and add stock. Bring up to the boil, reduce heat and simmer for 15 minutes. Let cool (about 15 minutes). Purée in batches in blender or food processor.
Toast curry powder in a small frying pan over low heat until fragrant (about 2 minutes). Stir into puréed soup. Garnish with spring onions and serve.